Pursat is a Province of Cambodia. It is located in the western part of the country and borders clockwise from the north with Battambang Province, the Tonlé Sap, Kampong Chhnang Province, Kampong Speu Province, Koh Kong Province, and Thailand.  The Pursat River bisects the province, running from the Cardamoms in the west to the Tonle Sap in the east.
The fourth largest province of Cambodia in area, Pursat ranks only 14th in population.
Pursat is home to Wat Bakan, considered to be among the oldest active pagodas in Cambodia and revered as one of the most holy sites of Cambodian Buddhism.
The capital is Pursat town and that is where we are. 174 kilometres north west of Phnom Penh by road and 106 kilometres south east of Battambang. It is on Highway 5 and does not experience high amounts of tourism. There are hotels, restaurants, markets and the normal range of things to see and do in a small town. If you are interested in experiencing rural  life outside the tourism hotspots then this as a great place to be.
General information about the climate:
– Cool season: November- March (18-28c)
– Hot season: March- May (22c -34c)  It can get a lot hotter than this average with temps regularly in the 40's
– Rainy season: May – October (22-32c, with humidity up to 90%.)
Central Pursat is easily covered foot. Motodops hang around the market, bus stations, train station, and sometimes along the highway. A ride anywhere in town should cost around 1,000 riel. A day trip to Kampong Luang or elsewhere can be negotiated for $10 or more. The occasional tuk tuk can also be found. The Phnom Pech Hotel rents small motorbikes by the day and half-day
.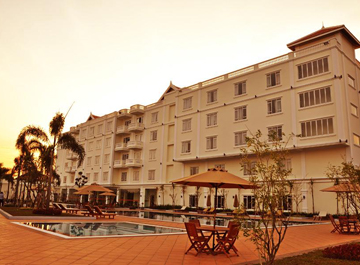 KM Hotel 
The Island